About Smith Mountain Project
The Smith Mountain Project, operated by Appalachian Power, is part engineering achievement and part community treasure. Built on the Roanoke River in the mid-1960s, the project's two dams and reservoirs — Smith Mountain and Leesville — have added nearly 600 miles of new shoreline and about 24,000 surface acres of water for community use. Its unique pumped-storage system provides electricity for the region and helps drive the surrounding area's economy as a focal point for tourism and outdoor activities.
Smith Mountain and Leesville Lakes
Our unique pumped storage process generates power by passing water stored in Smith Mountain Lake (the upper reservoir) through turbine generators and discharging it into Leesville Lake (the lower reservoir). The water is retained there until it is pumped back to Smith Mountain Lake for re-use.
The Smith Mountain Lake level can fluctuate up to two feet before Leesville Lake becomes full. In other words, a two-foot decrease in Smith Mountain Lake (from 795 to 793 feet) results in Leesville Lake increasing 13 feet (from 600 to 613 feet). Once Leesville Lake is full, power can't be produced until some portion of the water is pumped back into Smith Mountain Lake.
There is no set schedule for operation. Typically, generation happens when demand for electricity is high and water from the lower reservoir is pumped back when demand for power is low. Operation can change hourly depending on demand.
Two Foot Power Pool
Smith Mountain Lake
(Full Pond)
---
Smith Mountain Lake
793 ft*
Leesville Lake
(Full Pond)
*Under low in-flow conditions, the elevation at Smith Mountain can fall below 793 feet.
---
Visitor Center
The Smith Mountain Visitor's Center overlooks the dam and is free and open to the public. The center has exhibits explaining the history of the dam and how power is generated in the unique two-lake complex. Additionally, there is a picnic area on Leesville Lake below the dam that is open to the public daily. Call (540) 985-2587 for more information about the Visitor Center, including how to schedule a tour.
Winter Hours
November 1 – April 3
Monday – Friday, 8:30 a.m. – 4:30 p.m.
Closed Saturday & Sunday
Summer Hours
April 4 – October 31
Tuesday – Saturday, 8:30 a.m. – 4:30 p.m.
Closed Sunday & Monday
---
Islands & Blueways
Islands on Smith Mountain Lake are important for their scenic value and for their contributions to recreation, aquatic, and terrestrial wildlife habitats. Appalachian Power's Island Management Plan includes provisions to protect them in the future including protection from erosion by using riprap — a permanent layer of large stones — that protects the soil surface.
These measures are helpful, but we all need to do our part. Public recreational use of Appalachian Power-owned islands is permitted, however we encourage recreationalists to:
"Pack in, pack out" - Take any litter you've brought on the island away with you.
Use nearby bathrooms at any of the public boat ramps.
Pick up after your pets. Dog waste bags are available on Lucky Island.
Fires are prohibited, as well as cutting any vegetation on the island.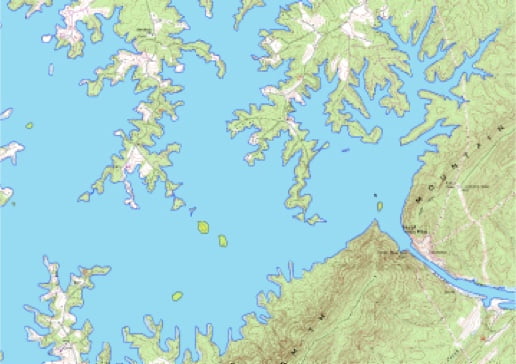 Find your island
Locate islands owned by Appalachian Power and public boat ramps with restrooms.
The idea for damming the Roanoke River at the natural gap of Smith Mountain in Southwestern Virginia had been promoted for a number of years before the project became reality. Originally proposed in the 1920s, it was another 40 years before Appalachian Power completed the two dams. Construction began in 1960 and was completed in 1963. Hundreds of workers cleared several hundred thousand cubic yards of mountainside and poured about 175,000 cubic yards of concrete to build the project.
The Smith Mountain Dam is a double curvature, concrete arch spanning 816 feet and rising 235 feet above the floor of the gap; Leesville Dam is a concrete gravity dam and is 980 feet long and 90 feet tall. The project created two lakes, covering primarily rural farmland. Smith Mountain and Leesville Lakes reached their normal "full" water level in 1966. Combined, they are almost 60 miles in length, contain about 24,000 surface acres and include 600 miles of shoreline.
Appalachian Power, a subsidiary of American Electric Power (AEP), is licensed to operate the Smith Mountain Project by the Federal Energy Regulatory Commission (FERC). The initial term was for 50 years. Effective in 2010, AEP relicensed operation of the project for a 30-year term.
The River that Runs Uphill
This historical film outlines the construction of the Smith Mountain Project, circa 1967.